Bonus Product(s) Program
a
With any new purchase order (on or after 08/17/2015) of $2,000+, you may select one or more
b
onus produc
ts
: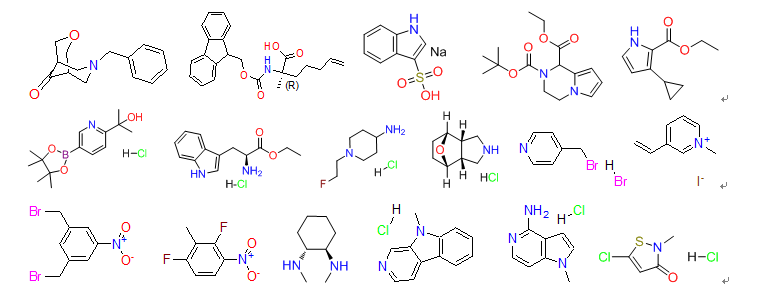 Click
here
for all bonus products available
Many of them are not available from other suppliers
Bonus product as much as 50g, or worth $1,000 each
b
| Number of Bonus Product(s) | 120 | 30 | 10 | 3 | 1 |
| --- | --- | --- | --- | --- | --- |
| With A New Purchase Order of | $1,000,000+ | $200,000+ | $50,000+ | $10,000+ | $2,000+ |
Place a new purchase order and select bonus product(s) you prefer. Get more by ordering more.
Limited to end user and new orders placed on or after 08/17/2015 only.
a Bonus Product(s) Program ("The Program") is not a contract and is non-binding on the parties to it. Selected Bonus Product(s) are subject to Accel Pharmtech LLC's acceptance within its sole discretion unless otherwise agreed by Accel Pharmtech LLC ("Accel" or "Provider"). Purchase order must meet qualifying dollar amount for The Program to apply. If purchase order was later modified or cancelled, The Program may not apply. The bonus product(s) is(are) not refundable and applie(s) only to items listed in bonus products file and are subject to available amount, and maximum bonus amount, whichever is less. Quality of bonus products(s) is not guaranteed and there is no warrantee on any bonus product. Multiple purchase orders may not be combinable to qualify The Program. Purchase order may not be cancelled or altered solely due to partial or completely failure fulfilling bonus product(s) program. The Program may be amended from time to time or terminate at any time at Provider's sole discretion. The Program will be void where prohibited.

b Bonus amount may be different for each product, may be more or less than above mentioned value. Please see
bonus products
file for detail information.